The Best Business Lunch Service Providers Near You!
Let's have lunch! Check our corporate menu and pick the delicious meal of your choice.
Business Lunch Prix Fixe
Our business lunch Prix Fix menu covers a variety of healthy, convenient, and delicious options. We offer our customers the opportunity to enjoy multiple dishes at one set price. All of our food is prepared daily using fresh, exotic ingredients and superfoods that will renew your energy and enable you to stay focused for the rest of the afternoon. Simply, order your favorite combination and we will provide it to you at the place and time you need it.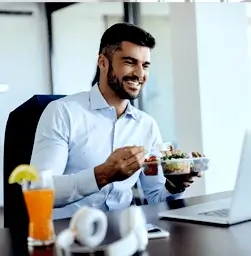 Business Lunch a la Carte
Enjoy the delightful collection of business lunch. Each option here has been prudently created and tasted to ensure that our customers get the best of both health and taste. Our team of chefs prepares the food using fresh, exotic ingredients and provides variations that ensure that you never get bored and empower you to order a new dish every day.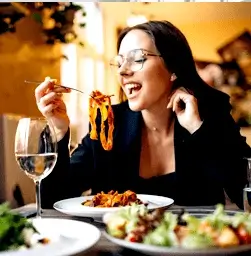 Business Lunch Subscription
Enjoy the most delicious business lunch at discounted prices with our subscription. You get the inimitable peace of mind, added with the best deal in market and quality food items which are served to you fresh at your chosen place and time. So, make the subscription and pay the least to enjoy the most lip-smacking business lunch.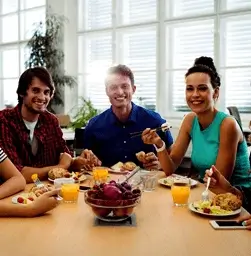 Business Lunch for Companies
With our business lunch, you can enjoy a variety of international cuisine delivered fresh every day to your office. We offer group booking discounts for company members, or your team can sign up for a monthly subscription. To help make lunch more convenient for busy people, we also offer On-Premise lunch to serve delicious food at your company's location.
Hear Them Out
What Our Customers Say About Us
The best sushi in Tirana!
The best staf! And
the price it's worth it!
I strongly recommend it.
Love this restaurant ❤️
Great service, great monthly meal plans.
This is the second month I have enrolled on monthly meal plans and
I am enjoying it
The service is excellent , friendly and fast.
The food is delicious and i loved the burrito 🌯
The prices also were affordable.
Good job wonderbites!!!
keep it up 👏👏
The food is great, something different on what we have been experiencing. We even had the chance to have a chat with the owner, he was a really nice guy. Thanks for the great food and the amazing hospitality.
Definitively what we were missing in Tirana!
It starts with excellent staff communication and welcoming, friendly environment and absolutely amazing, delicious food!!
Absolutely a must! Everything is so tasty and nicely done! I'd personally recommend the burrito, the only REAL Mexican burrito I've tried in Tirana! The staff also is very friendly and welcoming! Keep it up guys!
Wonderbites Business Lunch and Event
Our Business Lunch services facilitate meal planning around social occasions, events, work meetings, or busy periods.
Do you still have questions?
Schedule a call with our catering manager by submitting your information below.